Here we have a compiled form of 30 Easy homemade card making ideas for different occasions in the house. DIY cards have their own special feel and are very great at showing each other how much you care for them. They help in making magical moments even more personalized by adding the perfect amount of love and appreciation. Handcrafted projects are quite thoughtful and show much affection you have for that person. By making DIY cards with your hands, you choose what sentiment and look it should hold for the receiver. Rather than buying off cards from the stores, making them yourself shows how much the other person means to you!
You may customize the design of the cards by changing the colors or size of the actual idea to fit yours. These sort of DIY projects allows you to have lots of fun and be creative as much as you can.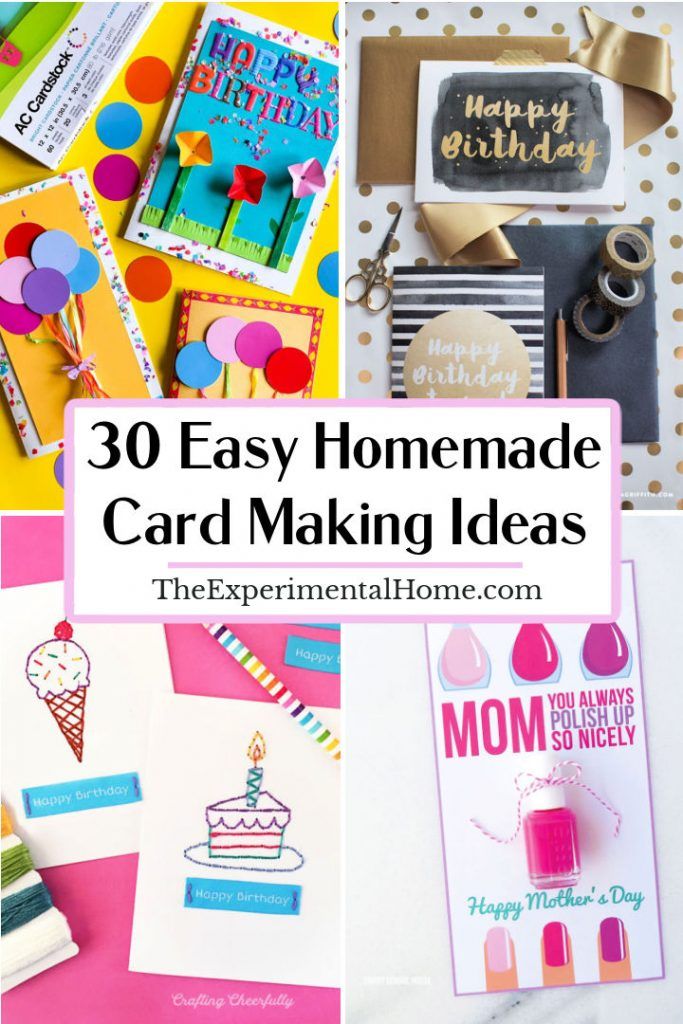 This guide will cover a wide range of designs, specifically, 30 easy DIY card making ideas to help you choose the perfect one for yourself. We have many different types of occasions to cater to a handmade card project, including birthday cards, mother's day cards, valentine's day cards, father's day cards, thanksgiving cards, graduation cards, wedding cards, gender reveal cards, and much more! We have it all! Card making can be a delightful and fun activity to do if done for a special person. It requires little time and a few basic supplies that you can easily find at home, which does not need any extra money to spend on.
Personalize Your Homemade Cards:
Moreover, in just a few minutes, you can have a nice and personalized card for your loved ones if you follow the step-by-step instructions carefully. So what are you waiting for? Without any further delay, let's start looking into these 30 unique and easy cards making ideas below!
1. Easy DIY Greeting Cards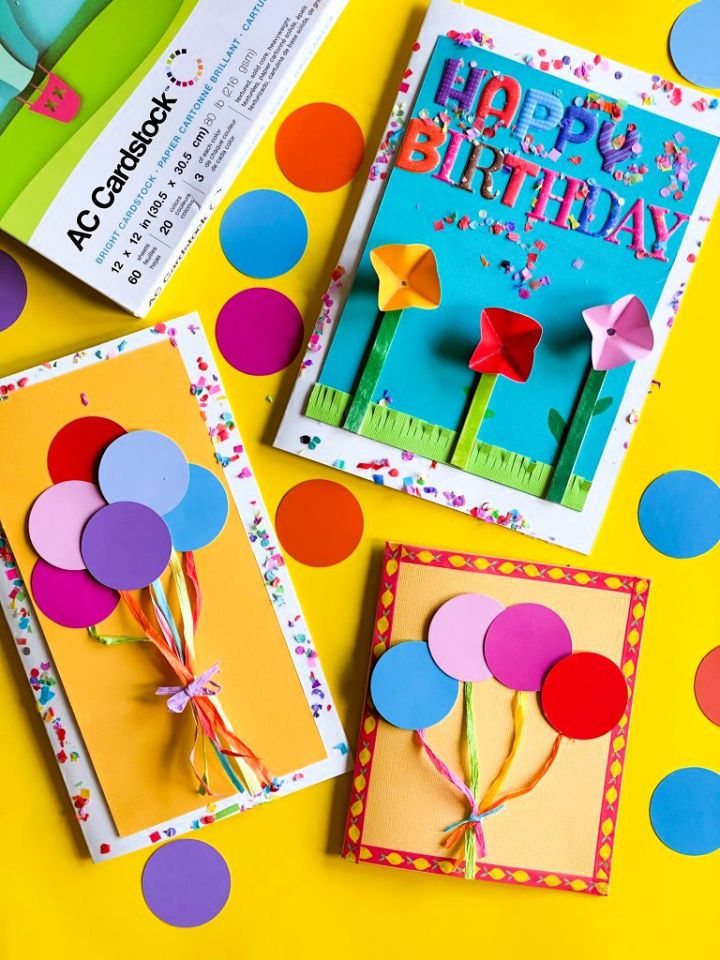 Handmade things are one of the most thoughtful gifts one can get. This easy DIY greeting card making idea is perfect for trying for a close friend or relative. Get crafty this season and send a personalized card for birthdays. Moreover, you will need supplies like cardstock, paint chip circles, colored raffia paper, wooden craft sticks, only brush markers, white poster board paper, puffy letters, mini hot glue sticks, confetti, washi tape, a paper cutter, and a glue gun. momjunky
2. Modern Happy Birthday Card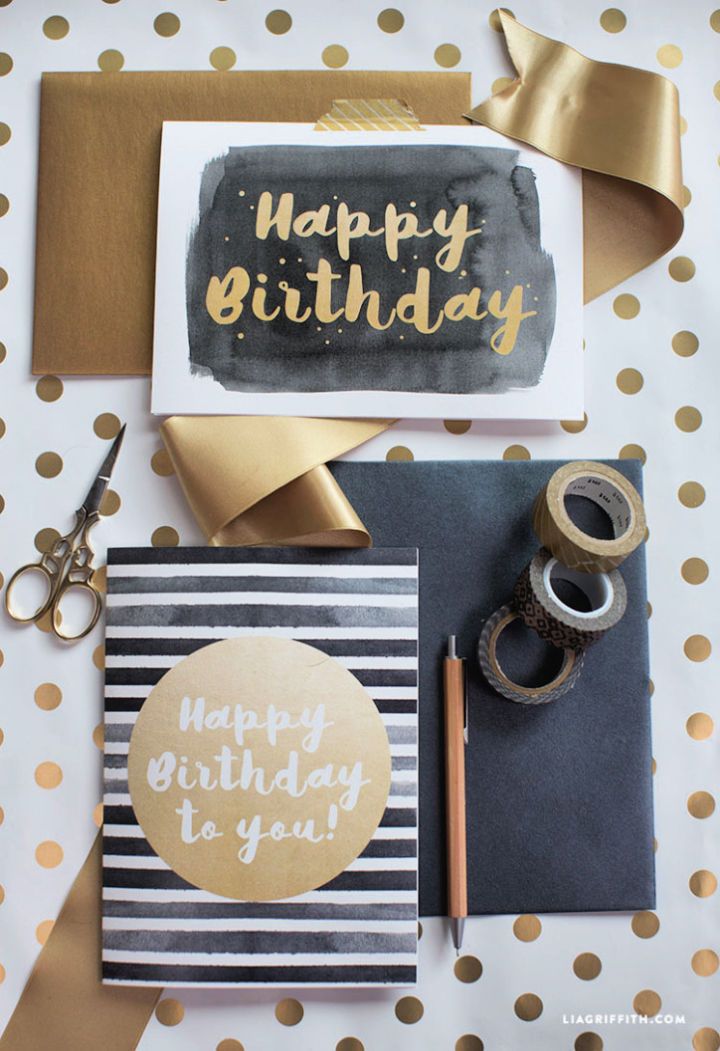 Here is a beautiful and modern birthday card that you can easily make just in a few minutes. This black and gold contrast makes the design quite stylish and gorgeous, which you can easily print on any size of paper. Add a personalized note for the person you would like to send it to, and make their day even more special. liagriffith
3. DIY Mothers Day Card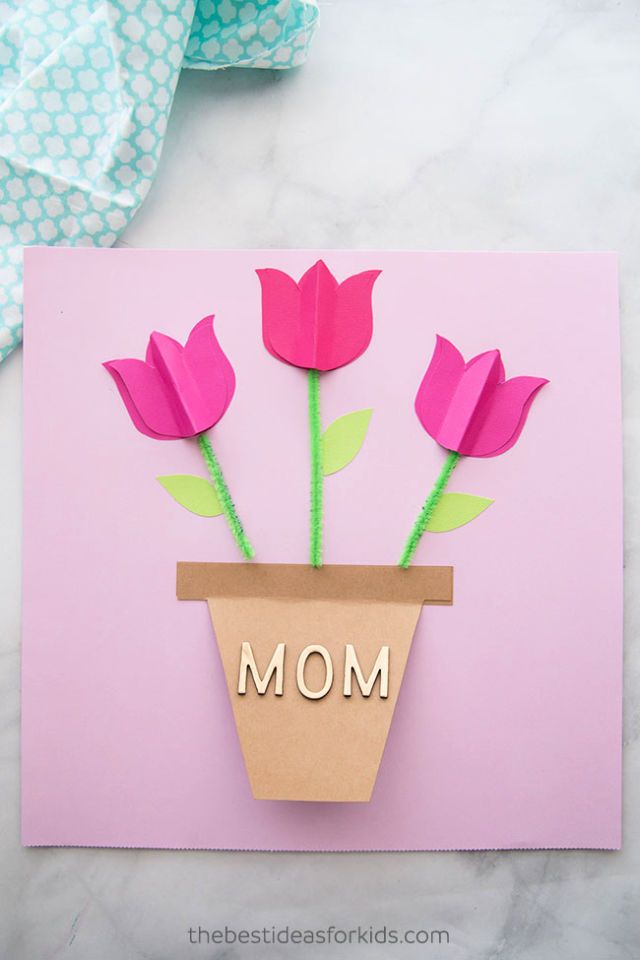 Mother's day is around the corner? Express your love to your mom with this simple yet cute 3D tulip card. Flowers signify love, so why not make them show our love to our moms? Additionally, you will need supplies like light pink cardstock, bright pink cardstock, green cardstock, green pipe cleaners, brown cardstock, alphabet lettering stickers, glue, and tuple flower pots templates. thebestideasforkids
4. Letterboard Birthday Cards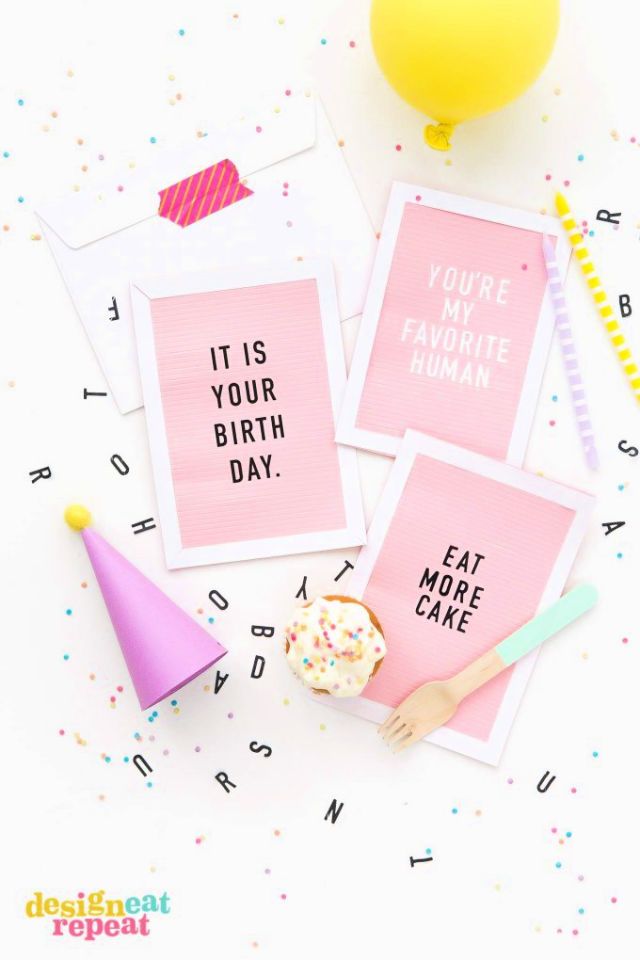 Letterboards are quite a trend these days, so why not jump on the bandwagon and make something out of them? This letterboard DIY birthday card is fun and very creative to make. You can customize it with a phrase you are making the card, like a birthday wish, appreciation note or best wishes note, etc. Supplies needed for it are white and pink cardstock, a printable frame guide, a scoreboard, scoring tool, sticker paper, black marker, strong double-sided adhesive, and an envelope. designeatrepeat
5. Embossed Daisy Card With Paper Flags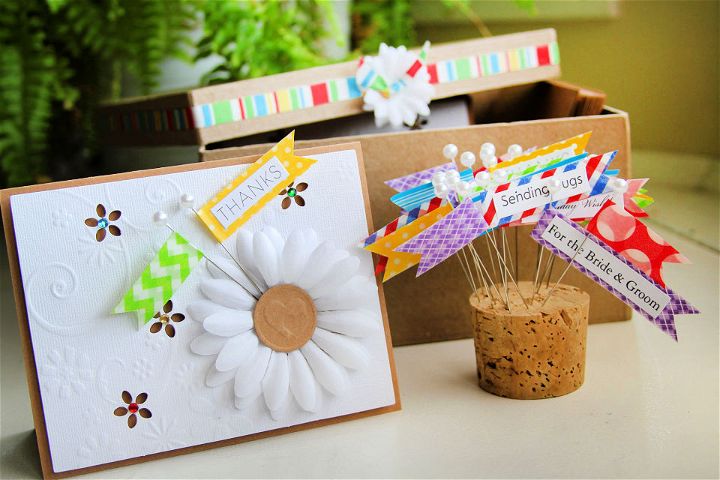 Have a difficult time finding a card with the right sentiments? Why don't you use your crafty side and make one yourself? Here is a pretty decent embossed daisy card with paper flags customized for any special day. Also, you'll need supplies including A2/A6 circle window embossed layers, foil embossed seals, multicolored rhinestones, white flowers, white pearl corsage pins, large cork, washi tape, paper mache box, and few more things. consumercrafts
6. Confetti Heart Valentine Card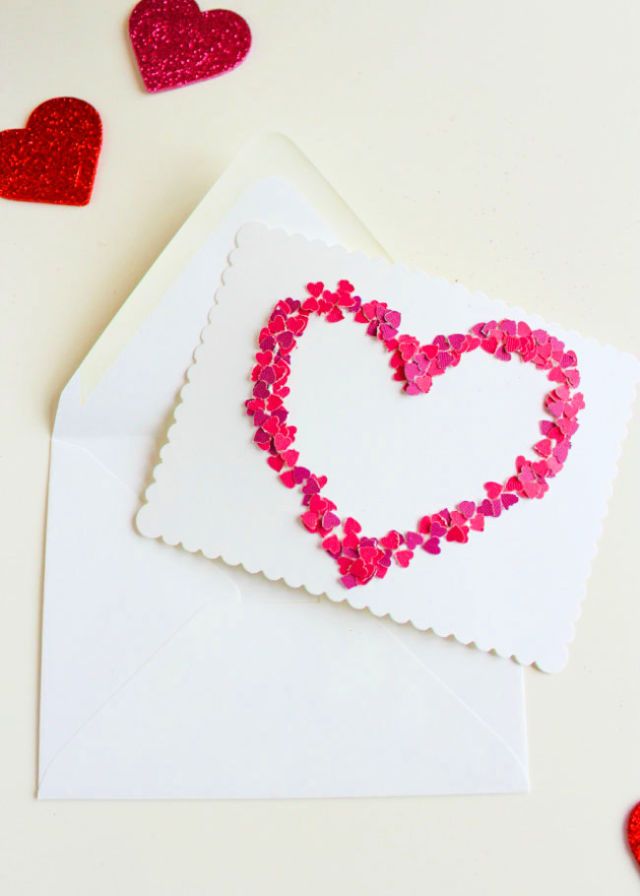 Confess your love for your significant other this Valentine's day with a thoughtful handmade card just like this one. You can use confetti to make a heart or "XO" to paste on a card. Moreover, make this lovely card using supplies like colorful paper or card stock, a heart hole puncher for confetti, white glue, and a plain card and envelope. designimprovised
7. Minimalistic Printable Greeting Cards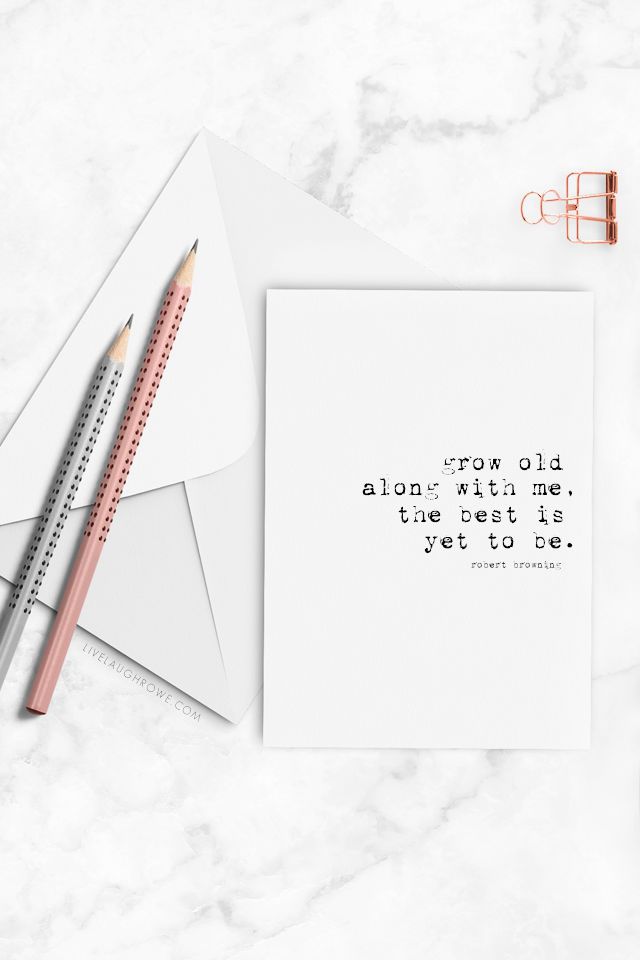 Keep things low-key but aesthetic with this minimalistic diy card making idea. It is super easy to make and does not even require much time, along with being quite budget-friendly as well – how cool is that? Moreover, you will need to make this project using supplies like a printer, white cardstock, paper cutter or scissors, A6 envelope, and bone folder. livelaughrowe
8. Fathers Day Watermelon Card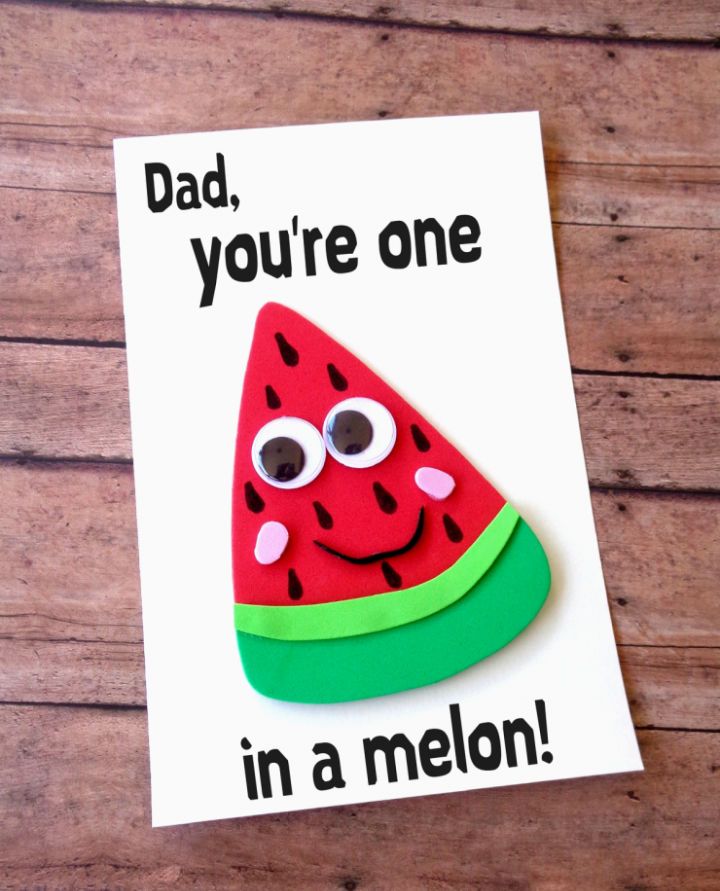 Out of all the 30 DIY card making ideas, this one is the cutest and funniest! Here is an incredibly fun card for Father's day this year, making it the perfect way to tell your dad that he is ONE IN A MELON! This pun incorporated message will surely bring a smile to his face. Remember to have the supplies with you for this card, including black, pink, red, light-dark green craft foam sheets, white poster board or cardstock, scissors, googly eyes, white glue, and black marker, plus a pencil. frugalmomeh
9. How To Make Place Cards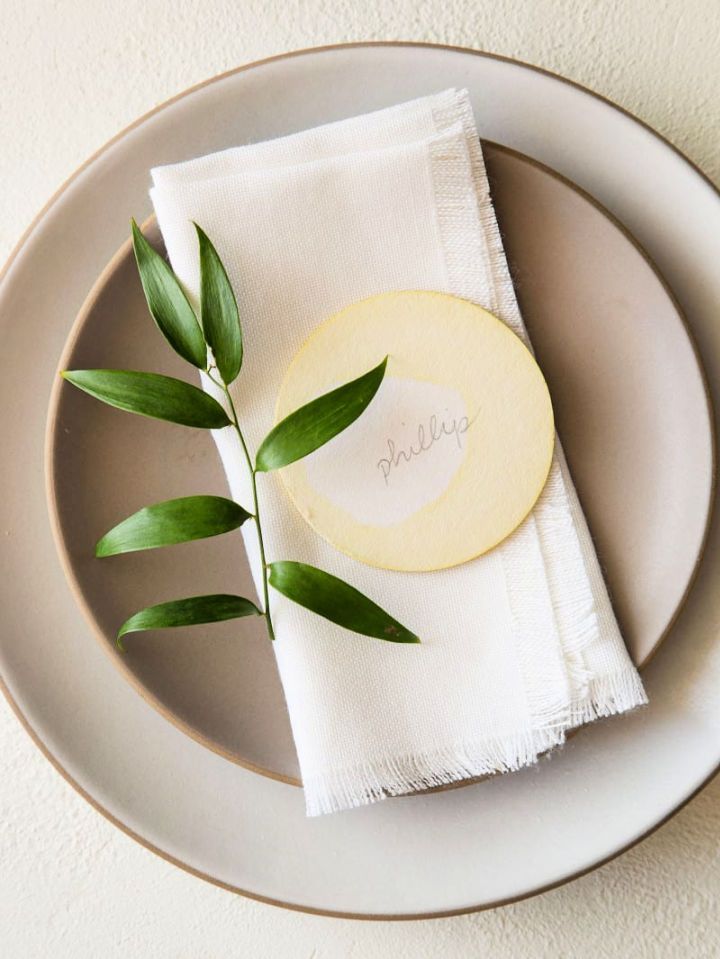 Now guide your guests with these elegant-looking place cards this coming Thanksgiving. It is an easy-to-make and quick DIY project to make place cards easily. Keep things easy and simple by making these dip-dyed plain coasters. Decide your color preference, and you're halfway there. Moreover, the supplies required for this project are 3.5 inches round plain coasters, food coloring, toothpicks, and awl or large gauged needles. spoonforkbacon
10. Homemade Graduation Card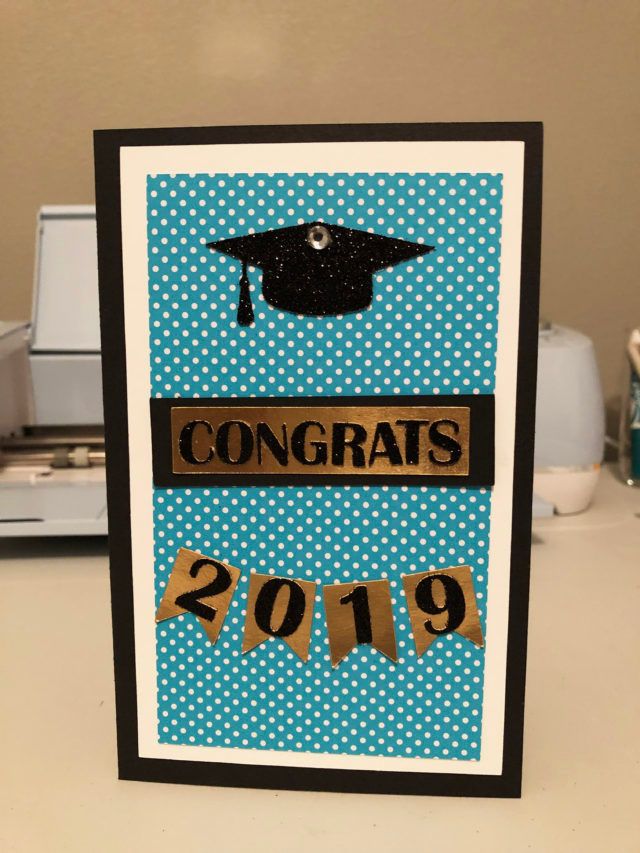 Know someone who is graduating soon? Make the day extra special by making this cute and thoughtful handmade graduation card congratulating them on such a major accomplishment in life. Using just a few minutes, make this card using different supplies like cardstock, circuit machine, soring stylus/wheel, double-sided tape, glue gun, and rhinestones. insideoutlined
11. Pop Up Butterfly Card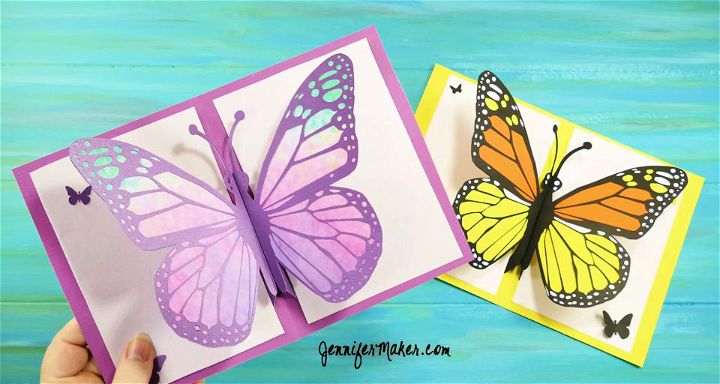 Pop-up cards are the most fun and exciting to make! If you love arts and crafts and enjoy making handmade cards, then you definitely should try this gorgeous pop-up butterfly card making idea. It is very easy and simple to assemble, unlike any other card. Supplies needed are cardstock, spray adhesive, Cricut cutting machine, and Circuit standard grip mat. jennifermaker
12. Sunshine Thank You Card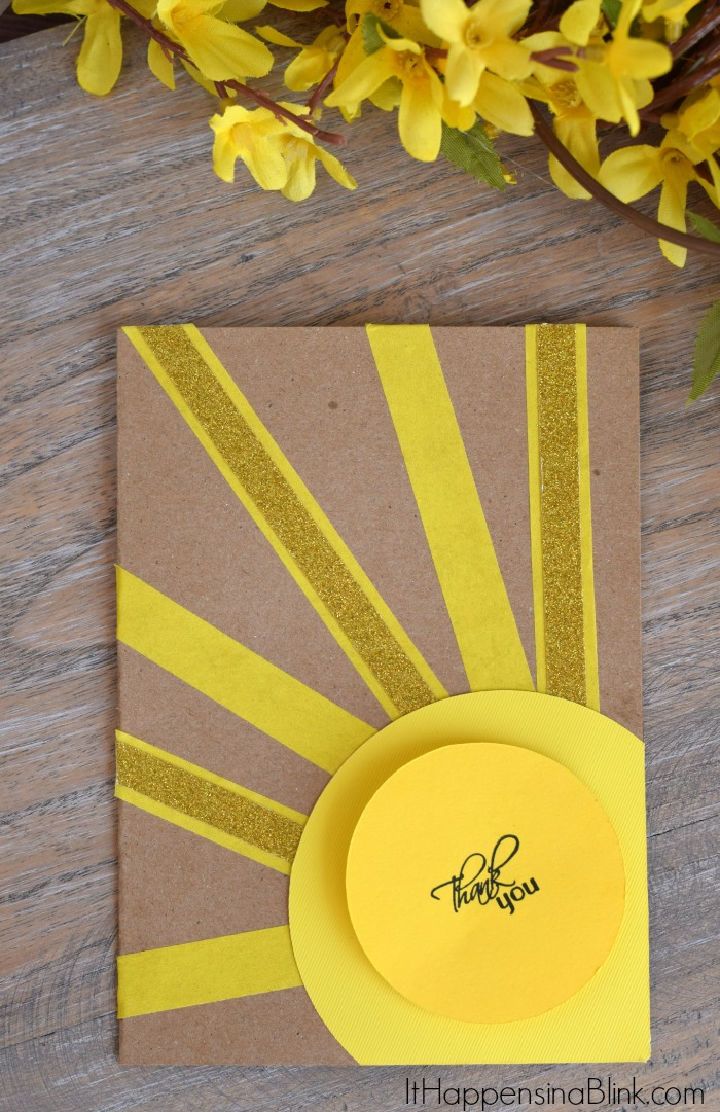 Thank the sunshine in your life with this super adorable and innovative Sunshine thank you card. It can be personalized according to your own choice and is very easy to make for a last-minute card making idea. Moreover, this project can be completed if supplies are available, which includes brown Kraft card stock card, yellow washi tape, gold glitter tape, scissors, craft knife, self-healing mat, yellow circles, glue stick, foam stickers, stamp body, black ink, and essential peel & stick "thank you" stamp. ithappensinablink
13. DIY Embroidered Birthday Cards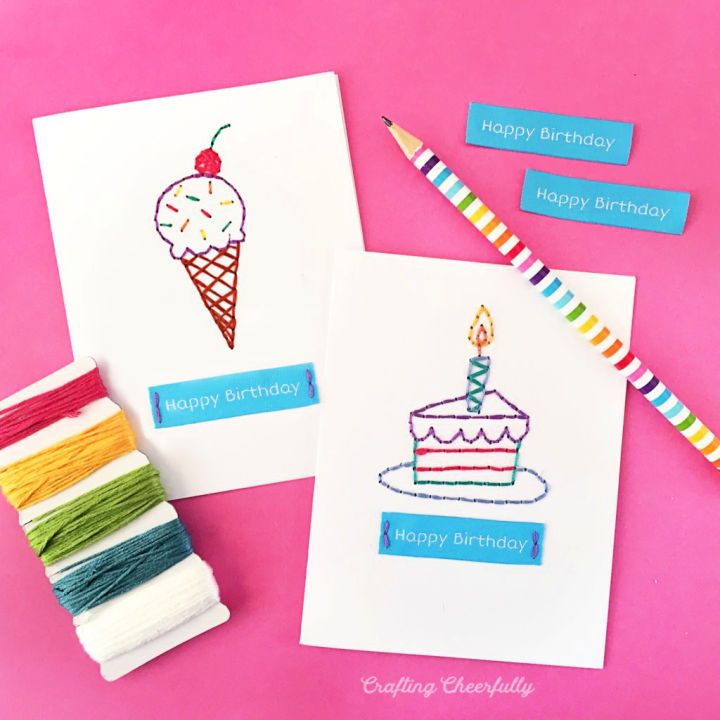 Combine your love for embroidery with card making to create these fun and exciting DIY embroidery cards. You will surely enjoy it a lot and be very happy with the outcome of this project. Additionally, you may customize the message for the card according to the occasion. Supplies include cards, matching envelops, embroidery floss, pushpin or straight pin, needle, ruler, piercing mat, labels with greetings, etc. craftingcheerfull
14. Embroidered Wedding Card with Free Template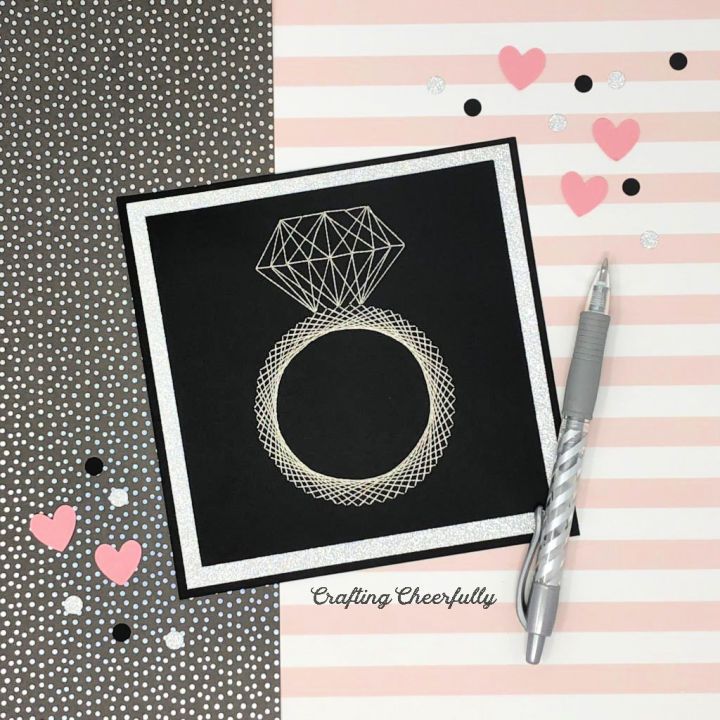 This wedding season, make this fun DIY embroidered card to make the day even more special. Here is a step by step instructions in detail on how to make this card easily. You will surely enjoy this project a lot. The supplies required for this are black cardstock, silver sparkly or glitter card stock, DMC floss – silver light effects, thin + small needle, pin, piercing mat, or-tape, and envelope. craftingcheerfull
15. DIY 3D Unicorn Card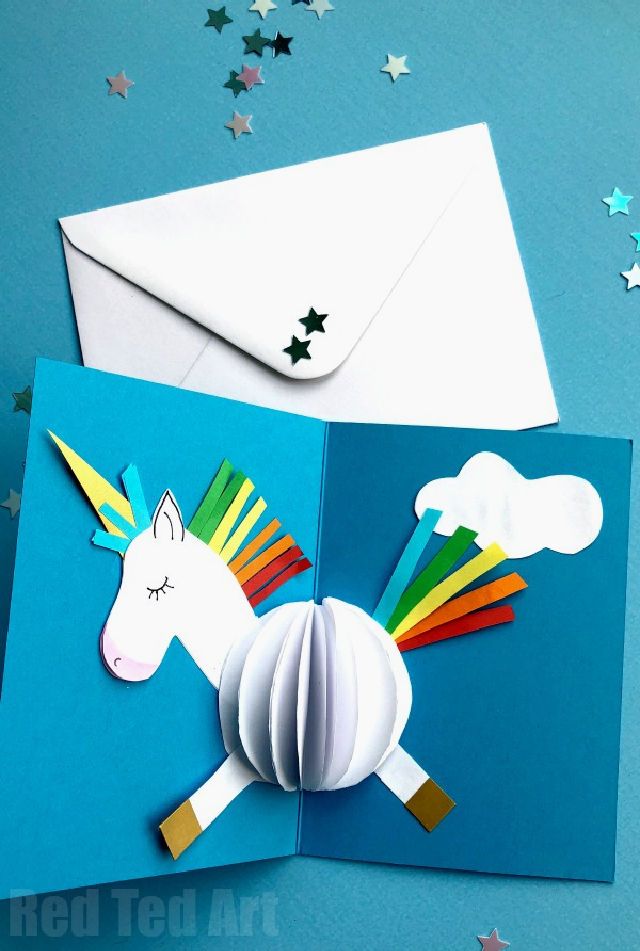 Create magic by making this super fun and easy DIY 3D unicorn card in pop-up style. It can make a great birthday card for any little kid obsessed with unicorns. This whimsical card is super cute and adorable. It can be made easily with card stock, A4 sheet of white paper, colored paper scraps, gold paper, glue stick, and Bakers twiner for hanging and pens. redtedart
16. Gender Reveal Card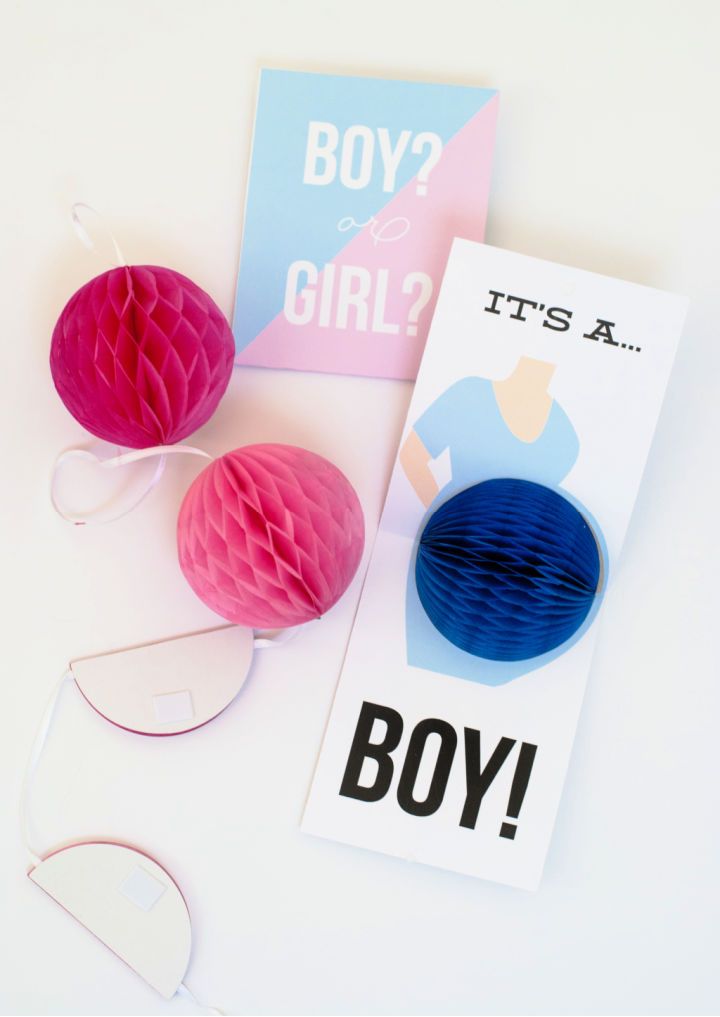 Gender reveal is a big event in a person's life. For this special event, you must make something cute and handmade with love. The pop-up makes the card even more fun and amusing to reveal such a huge announcement! The materials that you will be needing are a mini honeycomb garland in pink or blue, heavyweight white card stock, printable gender reveal cards, scissors, paper cutter, and glue dots. projectnursery
17. Autumn Tree Pop Up Card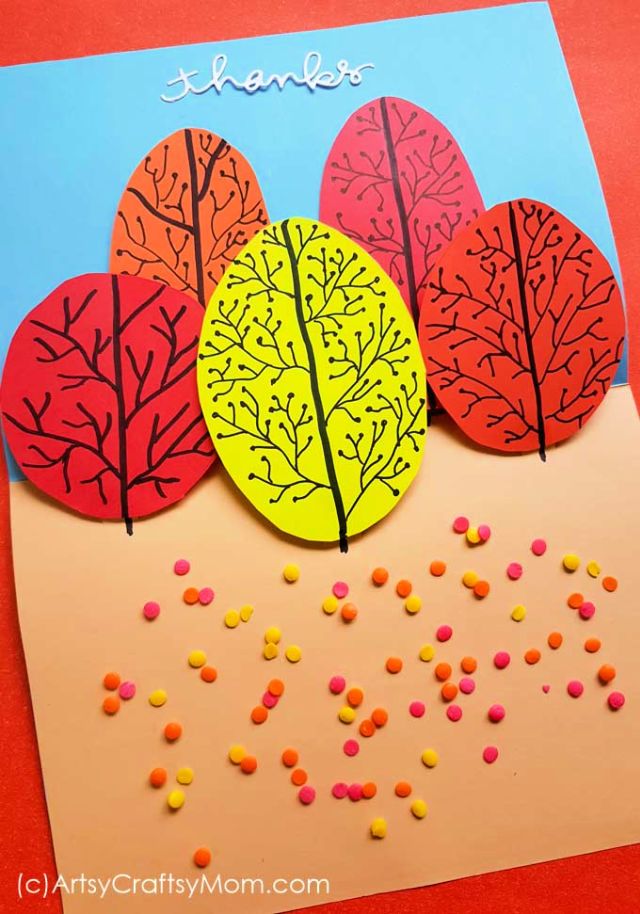 Do you also love the fall season and want to wish it to everyone with nice and innovative card making ideas? Make this awesome DIY autumn tree pop-up card in the gorgeous fall hues that any child can easily make with the help of their mom and dad. You will need supplies like thick craft paper in different colors, a marker, pencil, ruler, eraser, glue, and scissors. artsycraftsymom
18. Heart Valentines Day Pop Up Card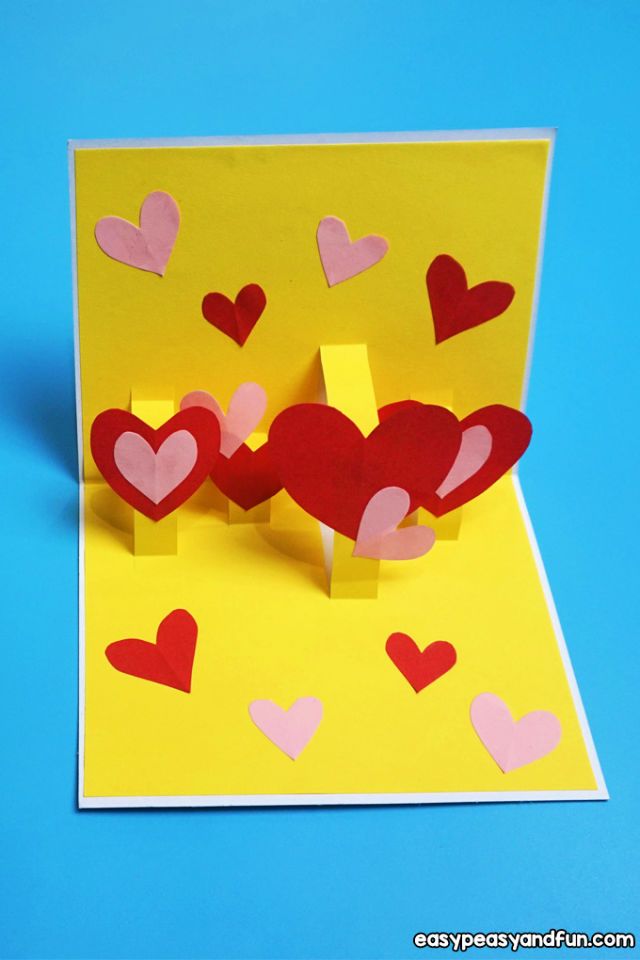 Shower around your love and affection to the ones you love the most this Valentine's day by making these cute heart-shaped pop-up cards. This simple craft is easy to make and perfect for anyone who loves handmade things. Moreover, the supplies that you will need for the following project are scissors, glue, cardstock paper, and colored papers. easypeasyandfun
19. Easy Xoxo Pop Up Card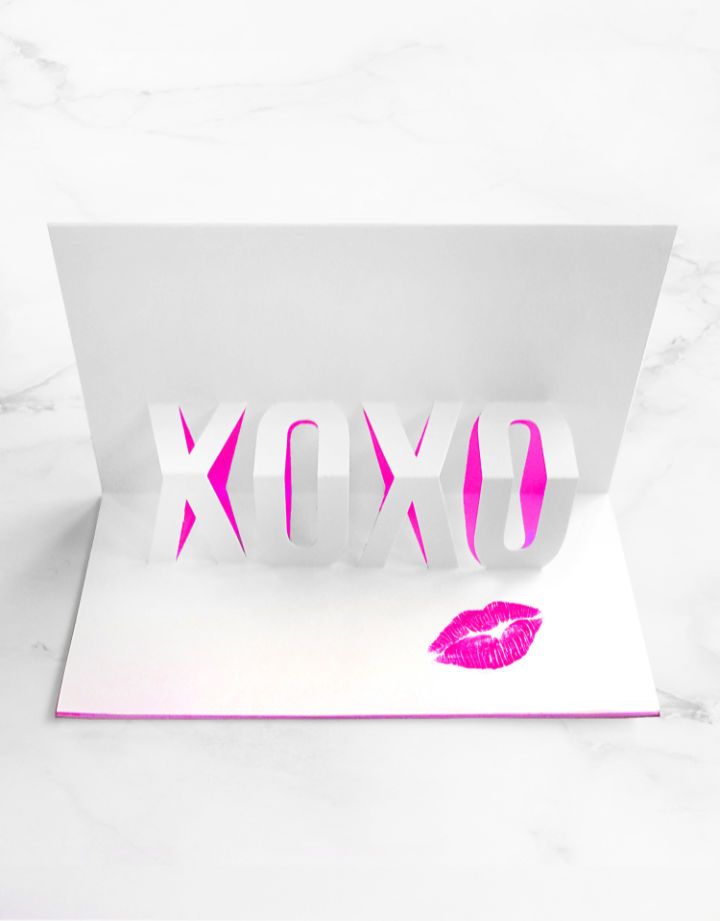 Don't you think a handmade card is more thoughtful and should be made for showing love and affection? Use your imagination to make this XOXO template card for friends or anyone you love the most. Assemble supplies like sheets of letter-sized cardstock, sheets of letter-sized paper for liner, xacto0koo knife, double-sided tape or glue stick, standard chapstick/lipstick, spray-painted old and baker twine or ribbon. lavaca
20. Tropical Mothers Day Petal Card
Does your mother love tropical-themed things? So, why not make them this tropical DIY card for Mother's day this year. The refreshing design can easily be printed on a card using the necessary supplies for the project. You can pair it up with a nice customized gift basket, including her favorite things like beauty products or chocolate tec. liagriffith
21. Free Printable Mothers Day Card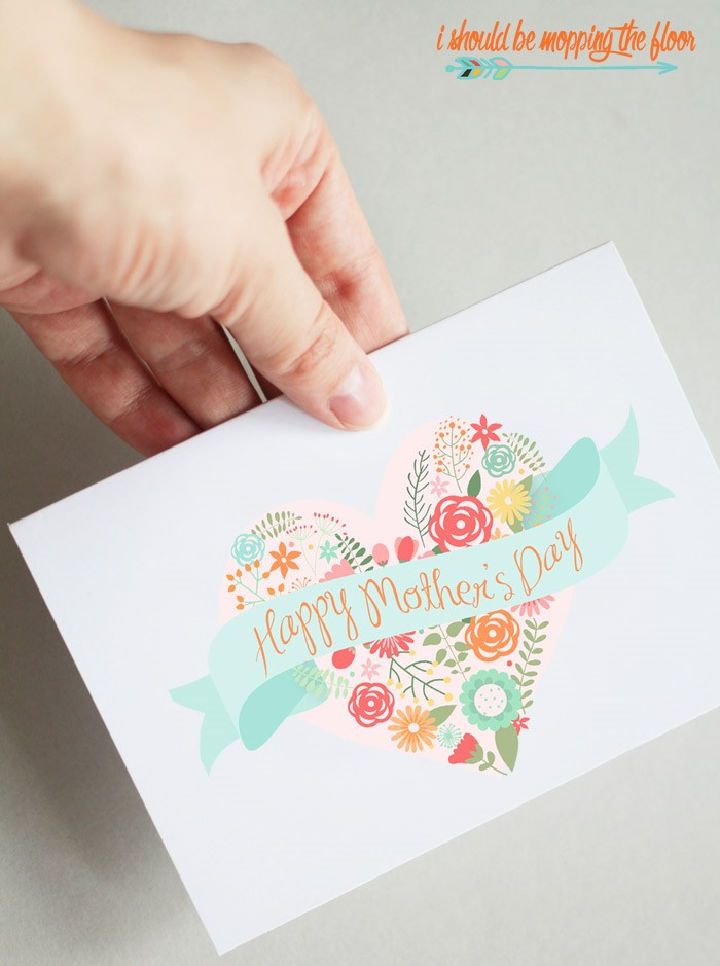 Here is an easy mother's day card making idea, which is a wonderful way to show how much your mom means to you. It has a very simple print with a heart full of flowers that gives off the perfect springy vibes. To finish off, put it in an envelope and attach it to the gift that you've decided to give her! ishouldbemop
22. Nail Polish Mothers Day Card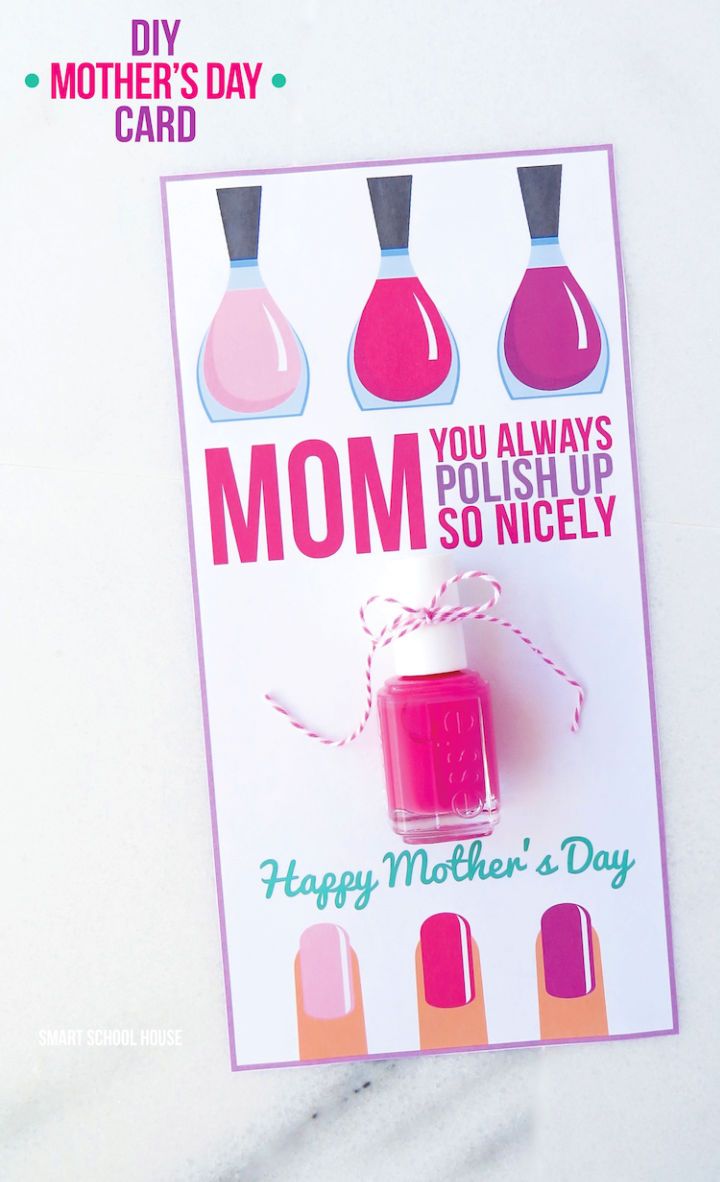 Is your mom a big fan of nail polishes and often spends most of her time in salons having manicures and pedicures? Then without wasting any time, make this fun, colorful, and very creative DIY nail polish mother's day card with an actual nail polish attached. Additionally, you must have necessary supplies like a free printable, hot glue gun, nail polish, baker's twine or ribbon, and cardstock paper. smartschoolhouse
23. Kid Made DIY String Art Flower Cards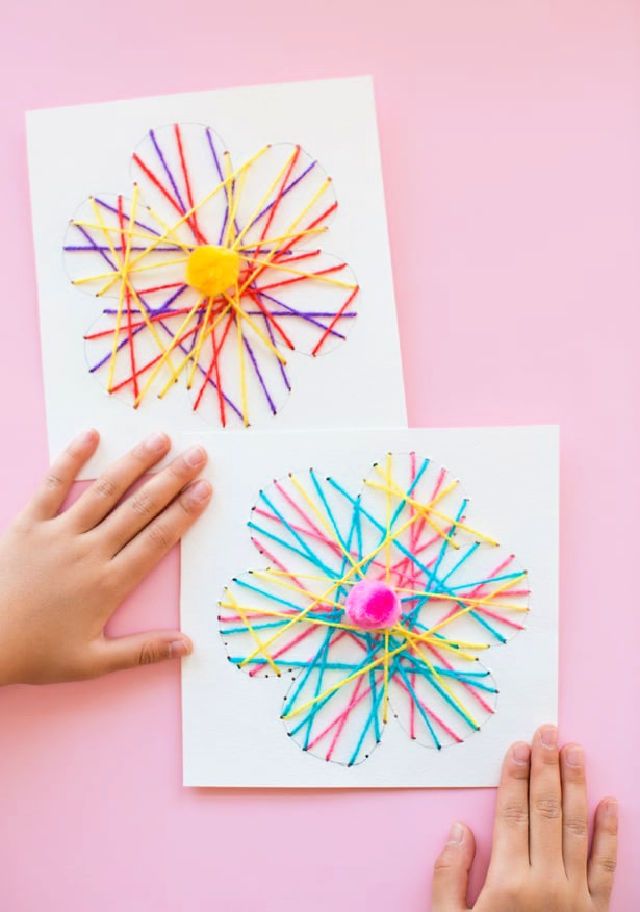 Heartstring art card has been quite a popular trend in card making ideas. Bring it back by making this fun and easy craft for your cards. It is made using different colored yarns worked up together to make a beautiful flower print. Moreover, this project requires cardstock, scissors, pencil, yarn, thick needle, flower template, pompoms, and glue. hellowonderful
24. How To Make A Simple Card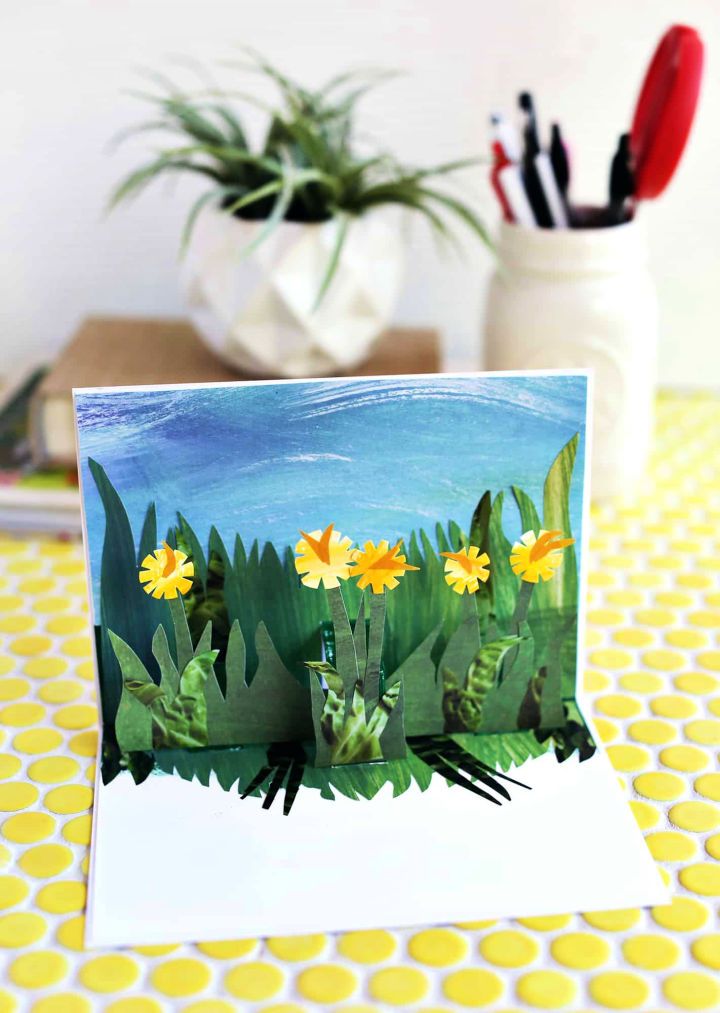 Unleash your hidden artistic skills through these 30 unique DIY card making ideas! This holiday, you can make this simple pop-up card and invite over guests by sending it to all of them along with a personalized note. Using only a few and basic supplies like paper, scissors, glue stick, and collage papers or photos, this project can be completed easily. abeautifulmess
25. Printable Shooting Star Shaker Card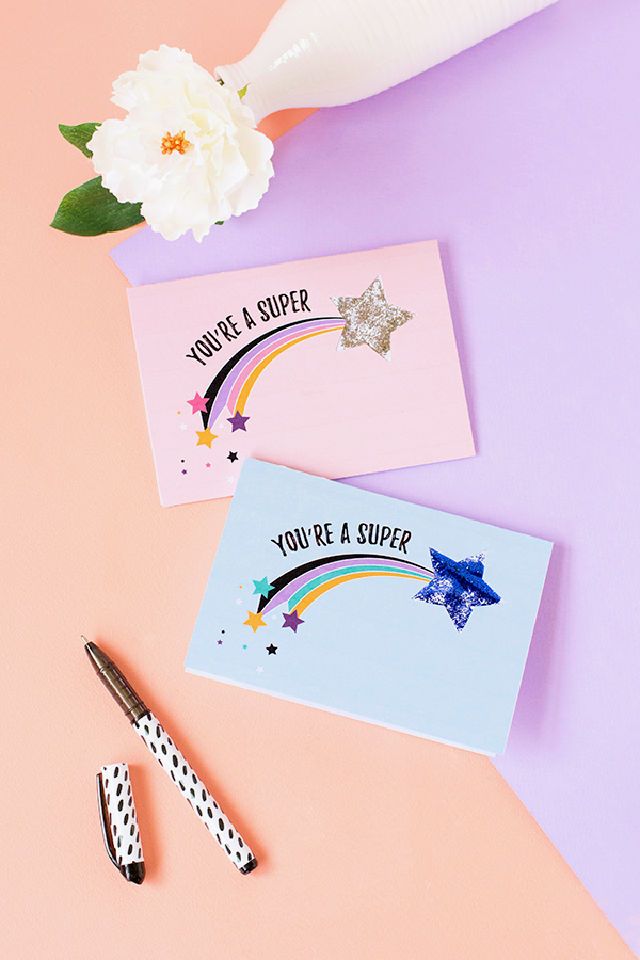 Are you the sort of person who can't express their feelings through words? Need another option for it? We sure can help you out on that one! Make this printable shooting star shaker card for all the superstars in your life, and appreciate them by sending them this. This little confidence-boosting card is made with supplies like a white A4 card, scissors, craft knife, ruler, bone folder, double-sided tape, sequins or glitter, and a small plastic sheet. makeandtell
26. Mothers Day Card With Pop Up Flower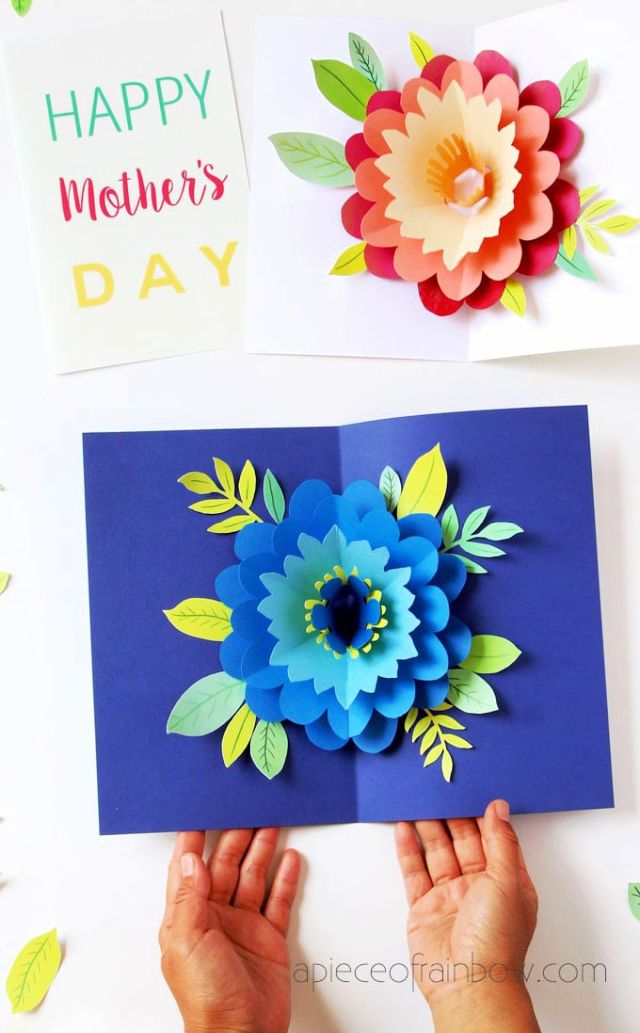 Mothers are quite simple at heart, and most of the time, all they need is some love and appreciation from their kids to keep them going. This mother's day, show your mom some love by spending lots of time with her and giving this incredible DIY happy mother's day card, which is very easy to make. The popup flower looks even more gorgeous this way, and she remembers to use her favorite colors too! Moreover, supplies needed are card stock, xacto knife, and printer. apieceofrainbow
27. How To Make A Card
Cricut machine, Hello card project in Cricut design space by Jen Goode, cardstock, gold gel glitter pen, and adhesive – these supplies are used to make one of the 30 card making ideas. It is an easy DIY project that literally anyone can complete within minutes. Your friends will surely love and cherish this nice little gesture for them! 100directions
28. Crafty Homemade Cards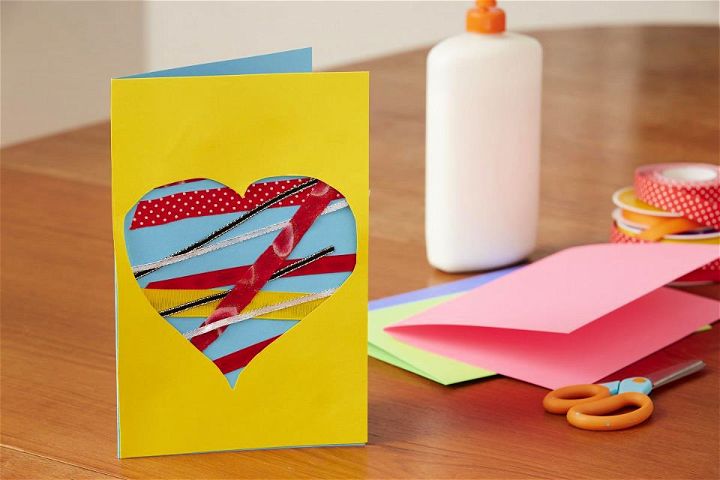 Nothing can beat a hand-crafted, thoughtful card on any occasion since they hold a lot of emotions. This cut and paste project is one of the easiest yet cutest projects to put together and complete. Additionally, you need to assemble a materials list, including colorful construction paper or card stock, colorful ribbons, washi tape, glue, and scissors. kindercare
29. Handmade Birthday Greeting Card
This handmade birthday greeting card is quite easy and fun to make. This video gives you stepwise details on how to decorate the card for anyone special, like a friend, siblings, mother, father, etc., on their occasion. In addition to that, you need supplies like the yellow thick sheet, red color papers, glitter foam sheet, marker pen, scissors, scale, eraser, and pencil. youtube
30. Happy New Year Card Idea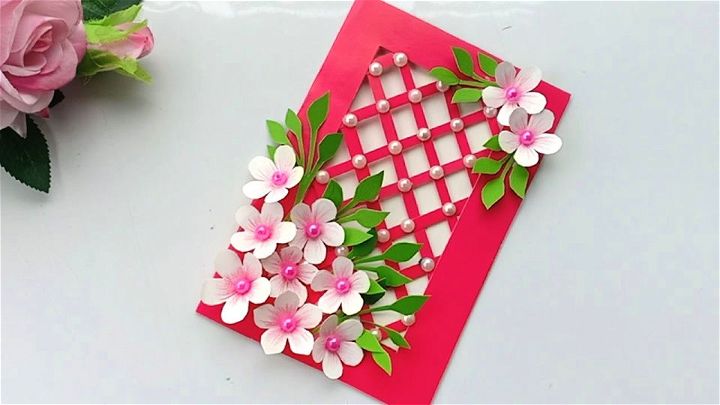 Finally, here is a beautiful floral type card making an idea perfect for good luck wishes or birthday, etc. It involves many crafty ideas, making use of homemade things to make such gorgeous cards that too, just in a few minutes. For this specific project, a lot of basic and easily available supplies are needed, which includes pony bands, rubber bands, thread and needle, white pearls, earbuds, green paint, scissors, cardboard, white paper, glue, pretty colorful lace, green yarn, pen, hot glue gun, glitter foam sheet, and sequins. youtube
Conclusion:
So, we hope that now you have many easy card making ideas and have also selected the one you like the most. All of the above-mentioned designs are specific in their features and will give your creativity a great chance to be shown on paper. All you need to do is choose what occasion is there to make a card and start thinking about it. We know that you most struggle with finding the perfect card for an occasion in the stores, so why not make one on your own? It sounds super fun and wonderful too. Moreover, by just using basic home supplies, these homemade card making ideas can be completed in no time. You might also start selling these cards out to people looking for homemade and reasonable cards for special occasions and make money too. Let's start it right away!